Police in South Korea have arrested two people suspected of leaking military secrets to a person believed to be a North Korean agent. The chief executive of a cryptocurrency exchange and an army officer divulged login details for South Korea's joint military command, police say.
They are accused of receiving large sums of money in exchange. North and South Korea have been locked in a tense relationship ever since fighting a war between 1950-1953. "This is the first case in which an active-duty officer and a civilian under orders of a North Korean agent colluded and spying on military secrets is discovered," police said.
A camera watch and USB device were used to give the agent access to data between January and March, it is alleged. The two men were arrested earlier this month. The whereabouts and identity of the presumed North Korean agent are unclear.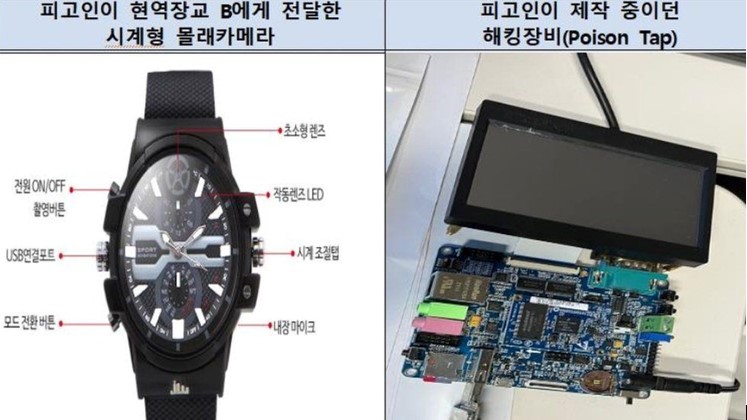 South Korean prosecutors and police announced the arrests of the head of the virtual currency firm, named only as Lee, and the army officer, Captain B, on Thursday. Both are charged with violating the country's National Security Act.
Authorities allege the businessman was first approached in July 2021 to try to "recruit an active-duty officer in order to investigate military secrets".
The following month, he is alleged to have approached Captain B, promising to compensate him with Bitcoin in exchange for military secrets on the orders of the alleged North Korean agent. The army officer subsequently agreed to take part in the operation and divulge the information, police say.
In January Lee bought "a watch-type hidden camera" and sent it to Captain B by courier, who then managed to bring the camera to his base, Yonhap news agency reported.
Lee then purchased parts of a USB-type hacking device known as a poison tap, which gave the agent remote access to data on his laptop. This included the login credentials to the South Korean military's joint command and control system, police say. It is not clear what other information might have been accessed.
The officer was paid 48 million Korean won ($37,938; £30,203) worth of bitcoin for his role in the operation, while Lee was paid 700 million won in virtual currency, prosecutors said. Police said they were tipped off about the operation in February. Authorities arrested Lee on 2 April and the army officer on 15 April.
Police officials said the identity of the spy operation's mastermind was presumed to be North Korean, based on statements made by the suspects and Telegram communication threads.
They added the leak was blocked by arresting Lee and the army officer.
Police also said the cryptocurrency trader had attempted to approach another military officer, who had rebuffed his advance. Investigations are still under way in relation to another suspect who it is alleged acted as an intermediary between Lee and the army officer.